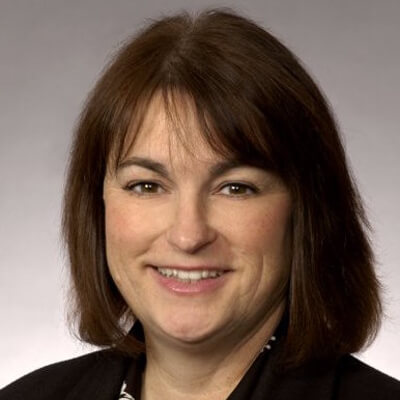 CASE STUDY
Patti Hill
Realtor
John L. Scott Real Estate
Staying Top of Mind With Quality Content
"OutboundEngine creates quality content, I really like the articles. They keep me top of mind year round so I can focus on my current business."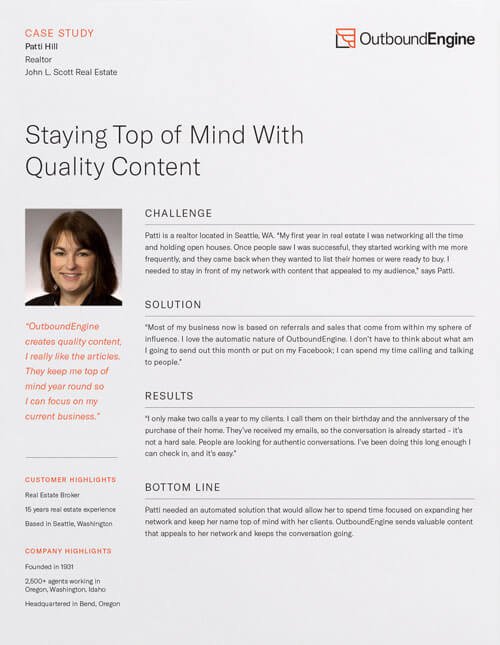 Challenge
Patti is a realtor located in Seattle, WA. "My first year in real estate I was networking all the time and holding open houses. Once people saw I was successful, they started working with me more frequently, and they came back when they wanted to list their homes or were ready to buy. I needed to stay in front of my network with content that appealed to my audience," says Patti.
Solution
"Most of my business now is based on referrals and sales that come from within my sphere of influence. I love the automatic nature of OutboundEngine. I don't have to think about what am I going to send out this month or put on my Facebook; I can spend my time calling and talking to people."
Results
"I only make two calls a year to my clients. I call them on their birthday and the anniversary of the purchase of their home. They've received my emails, so the conversation is already started -it's not a hard sale. People are looking for authentic conversations. I've been doing this long enough I can check in, and it's easy."
CUSTOMER HIGHLIGHTS
Real Estate Broker
15 years real estate experience
Based in Seattle, Washington
COMPANY HIGHLIGHTS
Founded in 1931
2,500+ agents working in Oregon, Washington, Idaho
Headquartered in Bend, Oregon
Patti needed an automated solution that would allow her to spend time focused on expanding her network and keep her name top of mind with her clients. OutboundEngine sends valuable content that appeals to her network and keeps the conversation going.
Ready to make your network work for you? Get a live demo with one of our marketing experts now.